My
IOMA&moi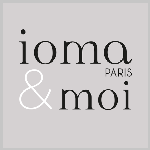 To thank you for your trust, IOMA PARIS has created
IOMA&moi
,
the rewards program www.iomaparisusa.com.
Your benefits with IOMA&moi:
• receive 25 welcome rewards points simply for creating your IOMA PARIS account,
• treat yourself with products within the offer from the www.iomaparisusa.com online boutique by turning your rewards points into a purchase coupon effective starting your first purchase,
• cumulate points with the code printed inside the product box of IOMA PARIS products (6 digits-alpha numerical),
• double your points by purchasing your products from the online boutique.
How to collect IOMA&moi rewards points?

We will give you 25 welcome rewards points for creating your IOMA account which may be redeeemed towards starting with your first purchase.

For each purchase made on the boutique's website (www.iomaparisusa.com), IOMA will grant you rewards points. Rewards points are credited to your account once the purchase is validated.

• $US 1 spent = 1 rewards point.

The number of earned points corresponding to a product is indicated on the product's page..
Your points are rounded to the upper whole number.

If you do not make a purchase from the www.iomaparisusa.com online boutique within a period of 12 months, your rewards points will be forfeited.

---

How to use my IOMA&moi rewards points?

Thanks to the IOMA & moi rewards system, you can reward yourself with all products offered on www.iomaparisusa.com's online boutique.

• 10 reward points = $US 1 purchase coupon

In your basket, the number of available rewards points will be displayed. By selecting "Redeem my rewards points for this basket", lthe entirety of available points will turn over to a purchase coupon.

• If you have more points than needed to pay for the entirety of your purchase, the remaining points will stay in your rewards account.
• If the number of available points is less than the total necessary to pay 100% of your purchase, you will only pay the remaining amount.

As soon as the purchase is confirmed, the redeemed points will be deducted from your rewards account.

Your collected & redeemed points will be rounded up to the nearest whole number.

For returns, your cumulated points will be forfeited from your rewards account and the used points towards the purchase(s) will be redeemed.

---

How can I be notified of my personalized IOMA&moi offers?

IOMA&moi personalized offers are available in our newsletters and online boutique.
You are likely to receive personalized offers also by text message or push if you use the IOMA A MOI smartphone application available on IOS and ANDROID.

These offers allow you to accumulate more rewards points.

---

I have a code printed on the packaging of my purchased product. What should I do?

The IOMA&moi rewards program is available to all clients who possess a printed code on an IOMA PARIS product box (code with 6 digits-alpha numerical).

In order to take advantage of this rewards code:
• Create your IOMA PARIS account or sign in with your ID and password.
• Go to My Account / My IOMA&moi.
• Go to the "Add a rewards code" section located at the bottom of the page and add the 6 digit rewards code. We will check to see if the code is valid. We will indicate the matching product for verification.
• After your confirmation, the rewards points will be credited to your account and will be immediately available for your purchases.

Your loyalty will be compensated twofold: By purchasing from the IOMAPARISUSA.com boutique, you can double the quantity of collected rewards points. They will be credited a first time automatically after confirmation of your payment from the online boutique and a second time when registering your 6 digit rewards code.

---

How to access the summary of my IOMA&moi rewards account?

All your transactions are available in My Account / MY IOMA&moi.

There you will find the status of your account, transactions made under your rewards membership account and the space for doubling your rewards points with the 6 digit code printed inside the packaging of your product.

Note: IOMA does not guarantee that 100% of available products have a printed code on product boxes.

---

Can I treat myself by only using my rewards points?

Yes, on the condition that you have enough points. If you don't have enough points, the purchase amount will be adjusted according to how many rewards points are available.

---

I cannot find the 6 digit code on the product's packaging. What should I do?

It may occur that certain products don't possess the 6 digit code printed inside the product box.

If you don't have an IOMA account, please create one here..

Contact our customer service by e-mail or mail while providing:
• the copy of your proof of purchase indicating:
• the referenced product,
• the amount of the purchase,
• the date and place of purchase,
• your last and first name,
• your IOMA PARIS account ID.

After verifying these elements, we will credit your rewards account with the corresponding points linked to your purchase within 30 days. We will inform you by e-mail as soon as the processing of your request has been completed.

IOMA reserves the right to decline crediting your rewards account if at least one of these conditions listed below has been presented:
• one of the elements listed above is missing,
• if at least one of these provided pieces of information is not valid,
• the proof of purchase is not from a distribution network officially authorized to market IOMA PARIS products,
• proof of purchase is older than 3 months from the date of your request.