Summary of your reward membership account
Review the transactions of all your points.
US$1 spent = 1 reward point earned
10 reward points redeemed = US$1 rewarded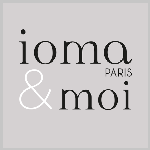 Click here to add a reward code manually
Add a reward code
In order to reward your loyalty, IOMA offers you the possibility to register the 6 digits (alpha numerical) reward code printed inside of your product packaging. The product points will be credited to your reward membership account.
The code is valid for any purchases done in any IOMA registered store, in the IOMA Paris Boutique and in the online shop IOMA-PARIS.com.
Purchasing your IOMA products online at IOMA-PARIS.com, you can double the quantity of collected reward points. They are credited a first time automatically after your payment has been confirmed and a second time when registering the 6 digits code inside your IOMA product pack.