IOMA Tabs : Weekend Ritual
IOMA Tabs Weekend Ritual lets you expertly care for your skin throughout the weekend.

Each treatment has a texture perfectly adapted to ensure perfect penetration and proven effectiveness.
MAIN ACTIVE INGREDIENTS & ACTIONS
Moisturising Cleansing Milk

2 doses

Gentle Exfoliating Emulsion

1 dose

Generous Day Cream

2 doses

Cell Protector SPF50+ PA++++

1 dose
Your loyalty
rewarded £1 spent =
1 reward point

100% secure
payment Visa, Mastercard, Diners
Discovery, Paypal, Alipay

Samples
offered* Try our products
before buying

72h* free delivery
from $US100 Straight to your door
in less than 72h

Free product
returns* Your product
reimbursed 100%

Customer
Service Do you have
a question?
Beauty

advice

Carefully open the lid of the selected treatment carefully and follow the application instructions.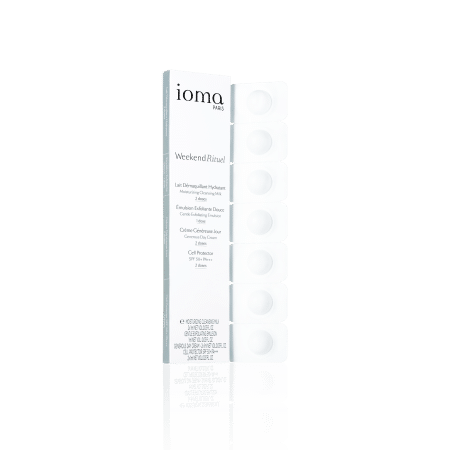 Beauty

ritual

Browse our selection of recommended products with IOMA Tabs : Weekend RitualI personalize my Beauty ritual.

Treat your skin to the unique expertise of IOMA care

Price of the 3 products:

In Stock

Add to cart